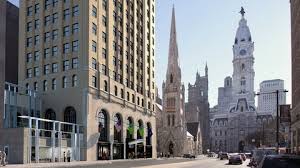 UNFORTUNATELY CANCELLED DUE TO COVID-19
We are pleased to invite you to the 6th Irish Thoracic Society ATS "Gathering". Following a very successful and well attended event at last year's ATS in Dallas, the ITS ATS "Gathering" 2020 is scheduled to take place on Saturday, 16th May from 5.30 – 7.00pm in the Aloft Philadelphia Downtown.
As before, the event will provide an opportunity to catch up with former colleagues and friends as well as serving to refresh and develop links with institutions traditionally associated with Irish graduates. It is also an opportunity to acknowledge the support enjoyed by the ITS over the years from overseas colleagues who have travelled long distances to speak at our meetings and support our work.
Please forward this email to any of your US based colleagues you think may be interested in attending.   We would be grateful if you could let us know if you and any guests you wish to invite will be attending before Friday 24th April.  RSVP to info@irishthoracicsociety.com
We hope you to see you in Philadelphia!
Dr Aidan O'Brien
President, ITS