GSK is one of the world's leading research-based pharmaceutical and healthcare companies, employing 1,100 people in Ireland. Our Dublin headquarters is home to our Pharmaceuticals and Consumer Healthcare businesses. Our pharmaceutical business has been a leader in respiratory medicine for more than 50 years, we are a major provider of vaccines to the HSE and an innovator in HIV medicine through ViiV Healthcare. The consumer business is a leader in pain relief and oral care in Ireland.
GSK in Dungarvan, which produces a variety of over-the-counter pharmacy and oral care products, is the global home of Panadol.  Around 6.5 billion Panadol tablets are produced in Dungarvan each year – that's 200 Panadol tablets a second, which are exported to over 70 countries worldwide.
Our offices located in Cork are home to a variety of global support staff covering operations in our R&D, pharmaceuticals and vaccines business units.
At GSK, we want everyone with asthma and COPD to feel healthier and lead the life they want. We want them to be able to enjoy 'every day' activities that others take for granted
We believe every respiratory patient is different: our approach is to identify patient types, creating tailored solutions designed to support individual patient needs. We can be proud that as a result of this approach, we now have a treatment approved for every stage of the disease for people living with asthma and COPD. 
The GSK Respiratory Portfolio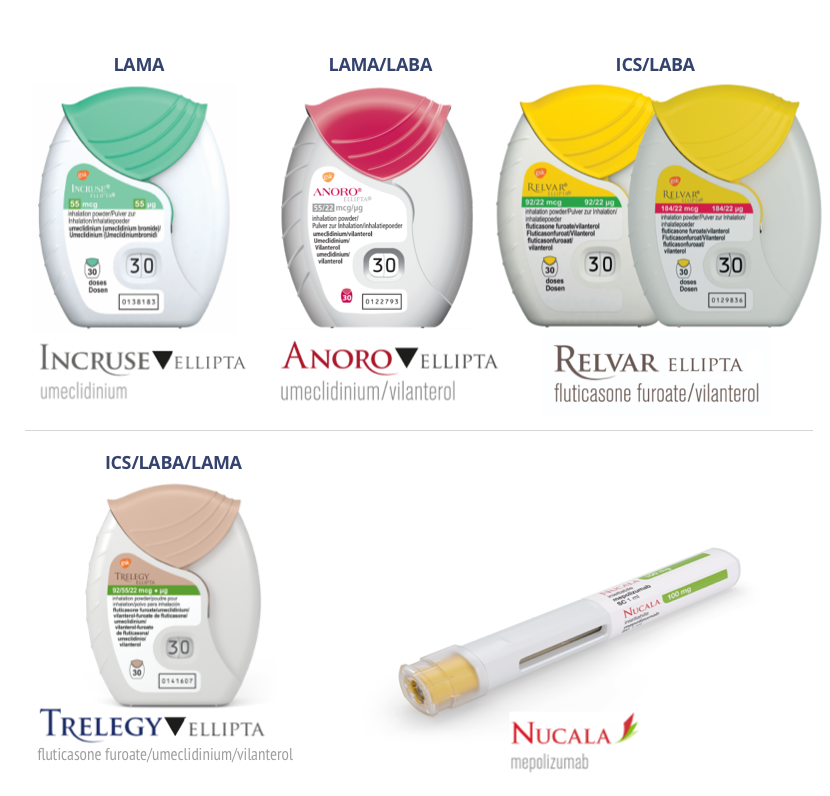 Nucala
Sandra Doyle 
0862591453
Ellipta
JJ O'Connor
0863836002
Ellipta
Geraldine O'Connor
0862331526
Ellipta
Fiona O'Shea
0863884004
GSK Ireland | 12 Riverwalk, Citywest, Dublin 24
General enquiries: 01 495 5000
Adverse events should be reported directly to the Health Products Regulatory Authority (HPRA) on their website: www.hpra.ie. Adverse events should also be reported to GlaxoSmithKline on 1800 244 255.
Marketing Authorisation (MA) Holder:, GlaxoSmithKline Trading Services Limited, 12 Riverwalk, Citywest Business Campus, Dublin 24, Ireland. MA No. Trelegy Ellipta [EU/1/17/1236/002], Relvar Ellipta 184/22mcg [EU/1/13/886/005], Anoro Ellipta [EU/1/14/898/002], Incruse Ellipta EU/1/14/922/002. Legal Category: POM B. 
MA Holder: GlaxoSmithKline (Ireland) Limited, 12 Riverwalk, Citywest Business Campus, Dublin 24, Ireland. Nucala [EU/1/15/1043/001, 002-006] Legal category: POM A
▼ These medicinal products are subject to additional monitoring. This will allow quick identification of new safety information. Healthcare professionals are asked to report any suspected adverse reactions.
Date of preparation March 2021 PM-IE-FVU-WCNT-210005
©2021 GlaxoSmithKline Group of Companies. Anoro, Incruse, Relvar, Trelegy, Ellipta and Nucala  are trademarks of the GSK group of companies.