The Irish Thoracic Society Awards for Outstanding Contribution in Respiratory Medicine
Professor Muiris X FitzGerald – 2009
Professor Muiris X FitzGerald was the recipient of the inaugural Irish Thoracic Society Award for Outstanding Contribution to Respiratory Medicine in 2009. It proved an opportunity to celebrate and recognise Professor FitzGerald's distinguished career and his unique and invaluable contribution to the field of respiratory medicine. A 1964 graduate of UCD, he trained in Dublin, the Seton Hall Medical School Jersey City NJ, the University of Birmingham UK and as an International Fogarty – NIH Fellow at Boston University Medical School Thoracic Services under the aegis of Ed Gaensler, Gordon Snider and Charles Carrington. During his training in Boston he published numerous papers on Environmental and Occupational lung disease, Surgery for Bullous Lung Disease, the Evaluation of Electronic Spirometers, the effects of Marijuana on the Lung, the Natural History and Treated Course of UIP and DIP –the latter three papers were published in the New England Journal of Medicine. On returning to St Vincent's Hospital Dublin he established its first Pulmonary Function Laboratory and initiated the first Adult and Adolescent CF service in Ireland, as well as a suite of specialist outpatient clinics for patients with sarcoidosis, lung fibrosis/rare lung diseases and asthma. He served as Secretary of the ITTS and as first Secretary of the newly formed Irish Thoracic Society in 1980, later becoming its third President. He was Chairman/President of the Cystic Fibrosis Association of Ireland and of the Irish Asthma Society. Prof FitzGerald is Emeritus Professor of Medicine and Therapeutics at University College Dublin, where he was Professor of Medicine and Consultant Physician (St Vincent's University Hospital) from 1977 to 2006 and then Dean of the Faculty of Medicine from 2000 to 2006. He is a former two-term Chairman of the Health Research Board (HRB) and served on the foundation Board of the Health Information and Quality Authority (HIQA), the Irish Society of Chartered Physiotherapists, An Bord Altranais and Comhairle na nOispideal for four terms. In professional education, he served as Chair of the Education Committee of the Irish Medical Council for four years and was Chair of the Medical Education, Training and Research Committee (METR) of the HSE from 2006 to 2009).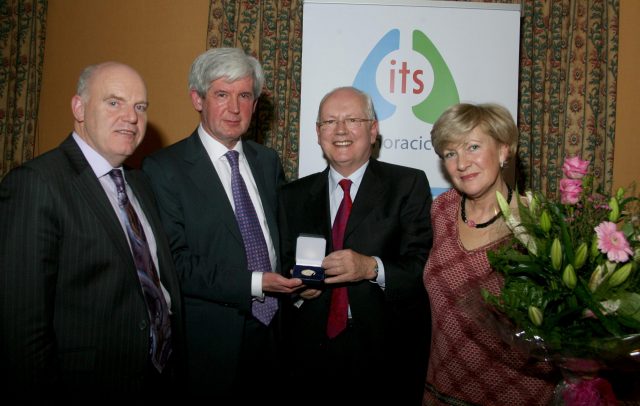 Dr Cathal Bredin – 2011
Dr Cathal Bredin, retired respiratory consultant at Cork University Hospital, was presented with the Irish Thoracic Society Award for Outstanding Contribution to Respiratory Medicine at the Society's Annual Gala Dinner on 11 November 2011. Dr Bredin graduated from University College Dublin with a BA (1964) and an MB (1970). Dr Bredin undertook an internship at the Mater Hospital, Dublin which was followed by SHO and Registrar training posts in the University Hospital of Wales group hospitals in Cardiff, and University College Hospital, Galway, acquiring his MRCP (UK) in 1973. Dr Bredin became a Fellow in Pulmonary Disease, Instructor, and Assistant Professor/Attending Physician at Weil Cornell Medical College/New York Hospital and Burke Rehabilitation Centre, White Plains, New York. He achieved his MD registration at the State University of New York and went on to be awarded Diplomate of the American Boards of Internal Medicine and of Pulmonary Disease. Upon his return to Ireland, from 1981 to 2009, Dr Bredin served in Cork University Hospital as a Consultant with a special interest in Respiratory Medicine, and as a clinical senior lecturer in Respiratory Medicine at University College Cork. During this tenure, he pioneered the outpatient-based TB service in the Southern Health Board area, as well as the adult cystic fibrosis service and the pulmonary function/sleep and fibre optic bronchoscopy services. He is a Fellow of the Irish, London, Edinburgh and American Colleges of Physicians. Despite being only one of two practicing Respiratory Physicians in public hospitals in the Cork/ Kerry region Dr Bredin maintained an active interest in publishing research papers, publishing more than 50 peer-reviewed papers in medical journals over the course of his career.
Since his retirement, Dr Bredin's academic interests have included mycobacterial disease, allergic aspergillosis, farmer's lung and the potential negative health effects of fracking. He has a long-term interest in student affairs and as well as his presidency of the Irish Medical Students' Association (IMSA), he held the position of President of the UCC Medical Society.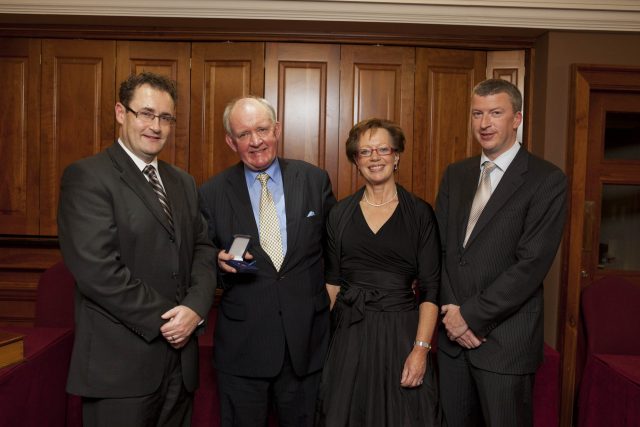 Professor Patrick Finnegan – 2014
Professor Pat Finnegan, Professor Emeritus, and previous Dean of Medicine at the National University of Ireland Galway (NUIG) and retired respiratory Consultant at University College Hospital Galway, was presented with the Irish Thoracic Society Award for Outstanding Contribution to Respiratory Medicine at the Society's Annual Gala Dinner on the 7 November 2014. A graduate of University College Galway (now NUIG) Professor Finnegan spent the early stages of his career in Birmingham. Where he was involved in seminal work in the development of long-term oxygen therapy which included use of the first prototype concentrator in the early 1970s. The safe prescription of oxygen therapy, nowadays taken for granted, owes much to those groundbreaking advances. On his return to Galway in 1976 Prof Finnegan applied his skills to the management of patients across the spectrum of respiratory disease. He was a pioneer in the development of non-invasive ventilation, and developed the first home-based NIV programme in Ireland, predating similar programmes elsewhere. As lecturer, then Professor and later Dean, Professor Finnegan has contributed enormously to the development of the Medical School in Galway. Under his direction the Faculty expanded to embrace Nursing and the Allied Health Professions. Prof Finnegan is widely regarded for his role as teacher and mentor to generations of Irish medical graduates. Prof Finnegan was a key figure in the development of the Irish Thoracic Society. In 1985, when the Society evolved from what was previously the Irish Tuberculosis and Thoracic Society and joined forces with members of the Ulster Thoracic Society to become an all-island body, Professor Finnegan was elected as its first President. Prof Finnegan's retirement has been no less productive. He is currently completing his third book while two of his titles, The case of the Craughwell Prisoners during the Land War in Co Galway, 1879–85 and Loughrea, That Den of Infamy, the Land War in Co Galway 1878–82 were bestsellers in their genre.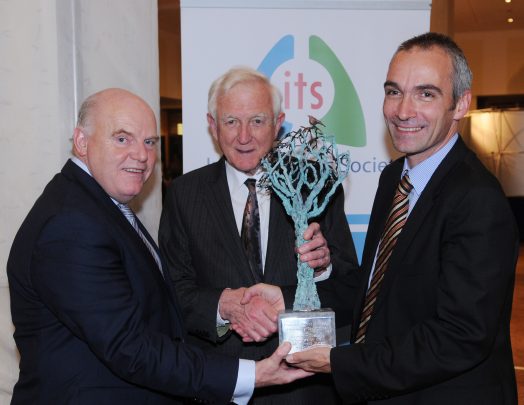 Professor Luke Clancy – 2019
Professor Luke Clancy, Director General, TobaccoFree Research Institute Ireland (TFRI) and Adjunct Professor, TU Dublin, Kevin Street was the recipient of the ITS Award for Outstanding Contribution to Respiratory Medicine 2019. This recognised Professor Clancy's many achievements in respiratory medicine and particularly his work in research, which combined with tireless advocacy and civil leadership, has brought farreaching benefits to public health in Ireland and internationally. A graduate of UCG, Professor Clancy worked in Edinburgh, with Sir John Crofton, and Nottingham before taking up posts in St James's Hospital and Peamount Hospital, and as Senior Lecturer in Respiratory Medicine in Trinity College Dublin. He played a leading role in medical and respiratory curriculum development both as Director of Post-Graduate Education for the TCD group of hospitals and as RCPI respiratory specialist nominee on the Specialty Advisory Committee of the Joint Committee of Higher Medical Training (UK and Ireland). Throughout his clinical career he introduced significant innovations in medical practice including the first outpatient fibreoptic bronchoscopy service (1978), the first multidisciplinary lung cancer team in Lung Cancer (1988), and the first outreach service for COPD patients (2000). Like the original society, Professor Clancy developed a special interest in TB – leading strategy and research, both nationally and internationally, on TB control, epidemiology, and infectiousness. He served as President of the International Union Against Tuberculosis and Lung Disease. As national co-ordinator for the ISAAC study on the prevalence of asthma and allergic diseases, he provided estimates of asthma and data on 'smoking in teenagers', which has helped initiate Government action to reduce smoking in children. Professor Clancy is a passionate advocate for elimination of air pollution and smoking. His ground-breaking report on increased mortality due to air pollution in Dublin and subsequent campaign led to the Smoky Coal ban in 1990. His study on effects of this intervention, reported in the Lancet and elsewhere, is considered seminal in this field. As Chairman of ASH Ireland, he led the campaign to make Ireland the first country in the world to introduce a ban on smoking in the workplace in 2004. As Director General of TFRI, his work on evaluating Smoke-free effects was used internationally to follow the Irish model as well as driving further policy change domestically in the form of Point of Sale bans and Plain Packaging. He has advised European governments, EU Parliament and NGOs and his major research on price and taxation of tobacco is contained in the outputs from the FP7 PPACTE project. His most recent ongoing research is on health effects of SHS on asthma and COPD patients (a Horizon 2020 project) and he has recently published the first RCT in the world on Allen Carr in Smoking Cessation (2018).