The Irish Thoracic Society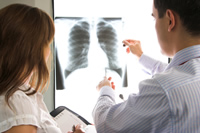 The Irish Thoracic Society (ITS) is the official society for the broad spectrum of healthcare professionals involved in the care of people with chronic or acute respiratory disease in Ireland. Membership of the Society is drawn from respiratory physicians, internal medicine physicians, paediatricians, thoracic surgeons, general practitioners, junior doctors, nurses, physiotherapists, pharmacists, dieticians, pulmonary function and respiratory technicians, scientists and other healthcare providers who specialise or have an interest in respiratory disease and care throughout Ireland – North and South. Test.
The ITS was formed to support education and research into respiratory disease and its management on the island of Ireland. It also promotes awareness amongst the public and relevant authorities of related public health issues including smoking, pollution and occupational factors. In addition to ongoing public information and advocacy activities, the Society holds an annual scientific meeting which provides a forum for all members with dedicated sessions for respiratory nurses, physiotherapists and respiratory technicians.
Registered Charity Number: CHY 17510
Charity Regulator Number: 20065294
Company Registration Number: 462103