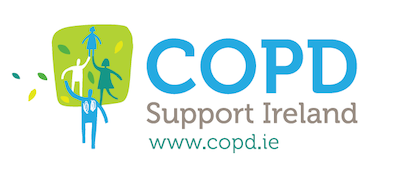 Joan Johnston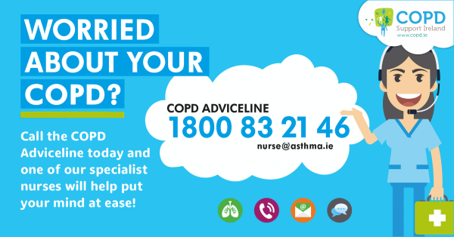 COPD Support Ireland is a charity set up to support all those living with chronic obstructive pulmonary disease (COPD). We are Ireland's only national COPD support and advocacy body, bringing together local support groups from around the country, to help those living with, and caring for someone with, COPD. We were founded in 2013 by patients working with the support of the Irish Thoracic Society, COPD National Clinical Programme, and health care professionals.
MISSION
COPD Support Ireland is an advocacy and support organisation, driven by people living with COPD. Our mission is to maximise the quality of life of people living with or at risk of COPD and to support those who care for them.
VISION
That people living with COPD live the life they want to live.
Board:
Prof Tim McDonnell – Chair of COPD Support Ireland
Professor Tim McDonnell is a retired consultant and respiratory physician. He currently is on the HSE national clinical lead for COPD programme. Tim became chair of the Board of COPD Support Ireland in 2021.
Dr Breda Cushen
Dr Breda Cushen is a Consultant in the Department of Respiratory Medicine in Beaumont Hospital. Breda joined the board of COPD Support Ireland in 2021.
Dr Sarah O'Beirne
Dr Sarah O'Beirne, is a Consultant Respiratory Physician, at St Vincent's University Hospital, and St Michael's Hospital, Dun Laoighaire. She runs pulmonary rehabilitation clinics for patients with severe lung disease. In addition, she now provides rehabilitation classes for patients suffering from post-Covid respiratory symptoms, an emerging and new area in medicine. Sarah also has a keen interest in the future of virtual health.
Dr Roisin Cahalan
Dr Roisin Cahalan is a senior lecturer in physiotherapy at the University of Limerick. Prior to joining UL in 2013, she worked in a range of private and public settings including rotations at University Hospital Limerick. She completed her PhD in 2015, which explored injury in elite Irish dancers. Her research interests are split between injury screening and surveillance in elite dancers and athletes and innovation in respiratory care. In addition to SingStrong, she is currently working on a project investigating the use of personalised text messaging and fitness trackers in CF. She leads SingStrong with Ms Ciara Meade, vocal coach and community musician, also from Limerick. Roisin joined the board of COPD Support Ireland in 2021.
Dr Mark O'Kelly
Dr Mark O'Kelly is the principal in a GP practice in the Rialto Primary Care Centre in Dublin's inner city. Mark is also the ICGP Lead for COPD working on the National Clinical Programme for Respiratory. Mark works in an area of significant deprivation and is passionate about working to achieve integrated care for chronic disease management, where all patients will have improved access to diagnostics and care delivered at the lowest levels of complexity and as close to their homes as possible. He is an active member of the Irish College of General Practitioners and represents GPs on a number of committees. Mark, along with his colleagues in the ICGP, has recently helped to oversee the successful 1st phase introduction of the Chronic Disease Management Programme in general practice
Dr Declan Weldon
Dr Declan Weldon, Head of Office OCPKE, Deputy Director, Trinity Research and Innovation Declan joined Trinity in 2017 bringing over 20 years of experience leading global R&D teams involved in multiple industry sectors from Pharma to Food.
Ciara Hanrahan
Ciara Hanrahan is a chartered physiotherapist and lecturer in respiratory physiotherapy on the MSc Physiotherapy programme in University College Cork. Ciara has worked with people living with chronic respiratory disease for twenty years, most recently providing a COPD outreach service from the Mercy University Hospital, Cork. She is currently pursuing her PhD in chronic obstructive pulmonary disease, physical activity and behaviour change. Ciara helped to develop the first COPD support group for people on the northside of Cork city and has been a member of the board of COPD Support Ireland since 2019.
Suzanne McCormack
Suzanne McCormack is CEO of the Irish Thoracic Society (ITS), the national organisation representing respiratory healthcare professionals on the island of Ireland.
Marion Hurley
Marion Hurley is a new board member. Marion is an Occupation Pre -School Teacher. She graduated in 2014 from Cork College of Commerce .She also has an Advanced Certificate in Early Childhood Care and Education. Marion has been running the Cork North COPD Support Group since 2019 and joined the board of COPD Support Ireland in 2021.
Catherine Craig
Catherine Craig has been the Secretary of COPD Ballyfermot Support Group for the last year. She was diagnosed with COPD 2010. Her hobbies are upcycling furniture, knitting, and walking. Catherine's goal is to stay as healthy as possible for as long as possible. Catherine joined the board of COPD Support Ireland in 2021.
Michael Drohan
Michael founded the Waterford COPD Support Group on 4 October 2011. He was also a founding member of COPD Support Ireland in 2013. He represented COPDSI at European and world summits in Zurich, Paris and London. He is the patient representative of the COPD National Clinical Programme. He was also a former chairperson of COPDSI. He is a member of the HSE SECH Peer leaders regional steering group, which, along with COPDSI, were very much a part of setting up the Wexford COPD Support Group and the South Tipperary COPD Support Group.
Michael McGloin
Michael McGloin was diagnosed with COPD back in 1999 after suffering a respiratory arrest. He founded the first COPD support group and COPD website in Ireland. He is also co-founder of COPD Support Ireland is the elected President of the group.
Paddy Grimes
Paddy Grimes has been a COPDSI board member for a number of years. He cared for his wife at various stages of her COPD for over ten years until sadly Carmel passed away in 2016. He is an active COPD member.
Joan Johnston – General Manager COPD Support Ireland
Prior to joining COPDSI as National Co-ordinator in April 2020 and now as General Manager, Joan was the Senior Physiotherapist in COPD Outreach in St Michaels Hospital, Dun Laoghaire.
Joan has worked as a physiotherapist across a variety of acute hospital settings and has been a Parent Ambassador for the Jack and Jill Children's Foundation. She is currently acting as a patient representative on the HIQA led Children's Reference Group (CRG) for Overarching National Standards for the Care and Support of Children using Health and Social Care Services. Joan sits as the COPD Support Ireland patient representative on the National Clinical Programme, Respiratory working group and has also just joined the Board of IPPOSI the Irish Platform for Patient Organisations, Science and Industry.