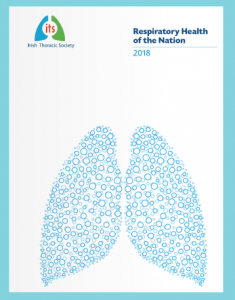 The Respiratory Health of the Nation 2018, published in December 2018 by the Irish Thoracic Society, is a major new report on the burden of respiratory disease in Ireland.
The report provides an overview of the impact of respiratory disease on the health service as well as information on eleven common respiratory conditions and their impact on two key population groups – children and older people.  It provides us with the most accurate and comprehensive picture to date of our nation's respiratory health.  It brings into sharp focus the severe impact of respiratory disease on individuals, the Irish population and the health service as borne out by some of its key findings:
Respiratory disease accounts for more hospitalisations than for cardiovascular and non-lung cancer cases combined (14% versus 8% and 5% respectively)
The vast majority of these cases (85%) are for emergency, unscheduled care
Ireland's death rate from respiratory disease is the fourth highest in the EU-28 and is 38% higher than the EU average
In the period between 2008 and 2016 the number of deaths from respiratory disease increased by 14.6%. This compares with a 7.5% drop in cardiovascular deaths
Respiratory Health of the Nation represents a large body of work and the Irish Thoracic Society would like to thank the authors –  Dr Máire O'Connor, Specialist Public Health Medicine/Epidemiologist, HSE East; Ms Eimir Hurley, SPHeRE PhD Scholar/Pharmacist & Biostatistician, Centre for Health Policy and Management, Trinity College Dublin and Professor Terry O'Connor, Consultant Respiratory Physician, Mercy University Hospital Cork – for their commitment and expertise.
We hope the report will be an invaluable resource for policy-makers, healthcare providers and professionals, researchers, patients and their families as well as the wider public. If you require any further information please contact us at info@irishthoracicsociety.com or Tel: 01 5677201.