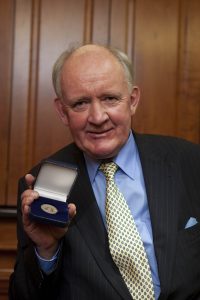 Dr Cathal Bredin, retired respiratory consultant at Cork University Hospital, was presented with the Irish Thoracic Society Award for Outstanding Contribution to Respiratory Medicine at the Society's Annual Gala Dinner on 11 November 2011. Dr Bredin graduated from University College Dublin with a BA (1964) and an MB (1970). Dr Bredin undertook an internship at the Mater Hospital, Dublin which was followed by SHO and Registrar training posts in the University Hospital of Wales group hospitals in Cardiff, and University College Hospital, Galway, acquiring his MRCP (UK) in 1973.
Dr Bredin became a Fellow in Pulmonary Disease, Instructor, and Assistant Professor/Attending Physician at Weil Cornell Medical College/New York Hospital and Burke Rehabilitation Centre, White Plains, New York. He achieved his MD registration at the State University of New York and went on to be awarded Diplomate of the American Boards of Internal Medicine and of Pulmonary Disease.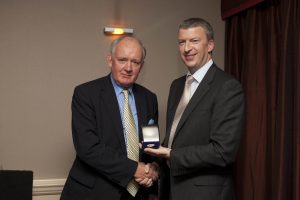 Upon his return to Ireland, from 1981 to 2009, Dr Bredin served in Cork University Hospital as a Consultant with a special interest in Respiratory Medicine, and as a clinical senior lecturer in Respiratory Medicine at University College Cork. During this tenure, he pioneered the outpatient-based TB service in the Southern Health Board area, as well as the adult cystic fibrosis service and the pulmonary function/sleep and fibre optic bronchoscopy services.
He is a Fellow of the Irish, London, Edinburgh and American Colleges of Physicians. Despite being only one of two practicing Respiratory Physicians in public hospitals in the Cork/ Kerry region Dr Bredin maintained an active interest in publishing research papers, publishing more than 50 peer-reviewed papers in medical journals over the course of his career.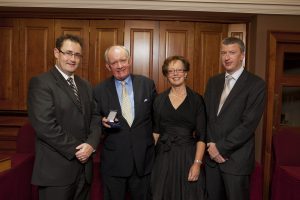 Since his retirement, Dr Bredin's academic interests have included mycobacterial disease, allergic aspergillosis, farmer's lung and the potential negative health effects of fracking. He has a long-term interest in student affairs and as well as his presidency of the Irish Medical Students' Association (IMSA), he held the position of President of the UCC Medical Society.