Presentation of the Irish Thoracic Society Award for Outstanding Contribution to Respiratory Medicine to Professor JJ Gilmartin
Professor JJ Gilmartin,  MD FRCPI FCCP Professor Emeritus NUIG, was presented with the Irish Thoracic Society (ITS) Award for Outstanding Contribution to Respiratory Medicine at the  ITS Summer Meeting in Galway in May 2022.  This recognised his  illustrious career and far-reaching contribution to the development of modern respiratory medicine in Ireland both at national level and regionally throughout the West of Ireland.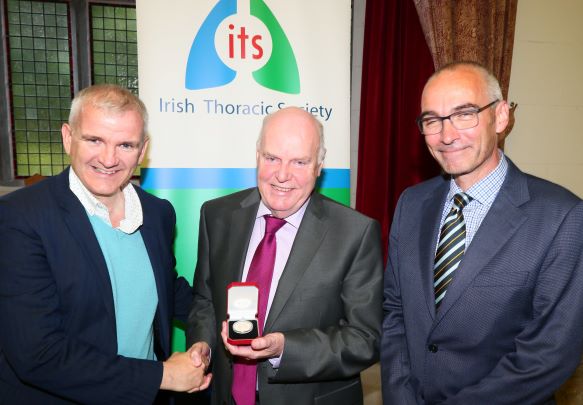 On graduating from University College Galway in 1974 JJ worked in Galway and Mayo, before embarking on a competitive research fellowship within the Freeman and Royal Infirmary, Newcastle.   Here he gained a reputation as an outstanding clinical physiologist, cementing his clinical interests and research focus in respiratory mechanics. He acquired expertise in fibre-optic bronchoscopy, ICU and CCU medicine, pulmonary function testing and sleep medicine – skills that would prove integral to his later development of services in Ireland.  Following further training in University of Brussels he was awarded his MD by NUI Galway in 1988 before being appointed as a consultant in Sunderland Health District.
On his return JJ took up the post previously held by Dr Harry Hitchcock  to become the first dedicated Chest Physician appointed to the West of Ireland. Within two years he had established the first bronchoscopy service, pulmonary function laboratory and he was the inaugural chair of the Hospital Medical Board. He was a member of the Western Health Board from 1992-2002 and chaired the Acute Services Subcommittee from 1999-2002.  Thanks to his tireless advocacy for a cardiothoracic surgical service in the West this was eventually realised in 2007.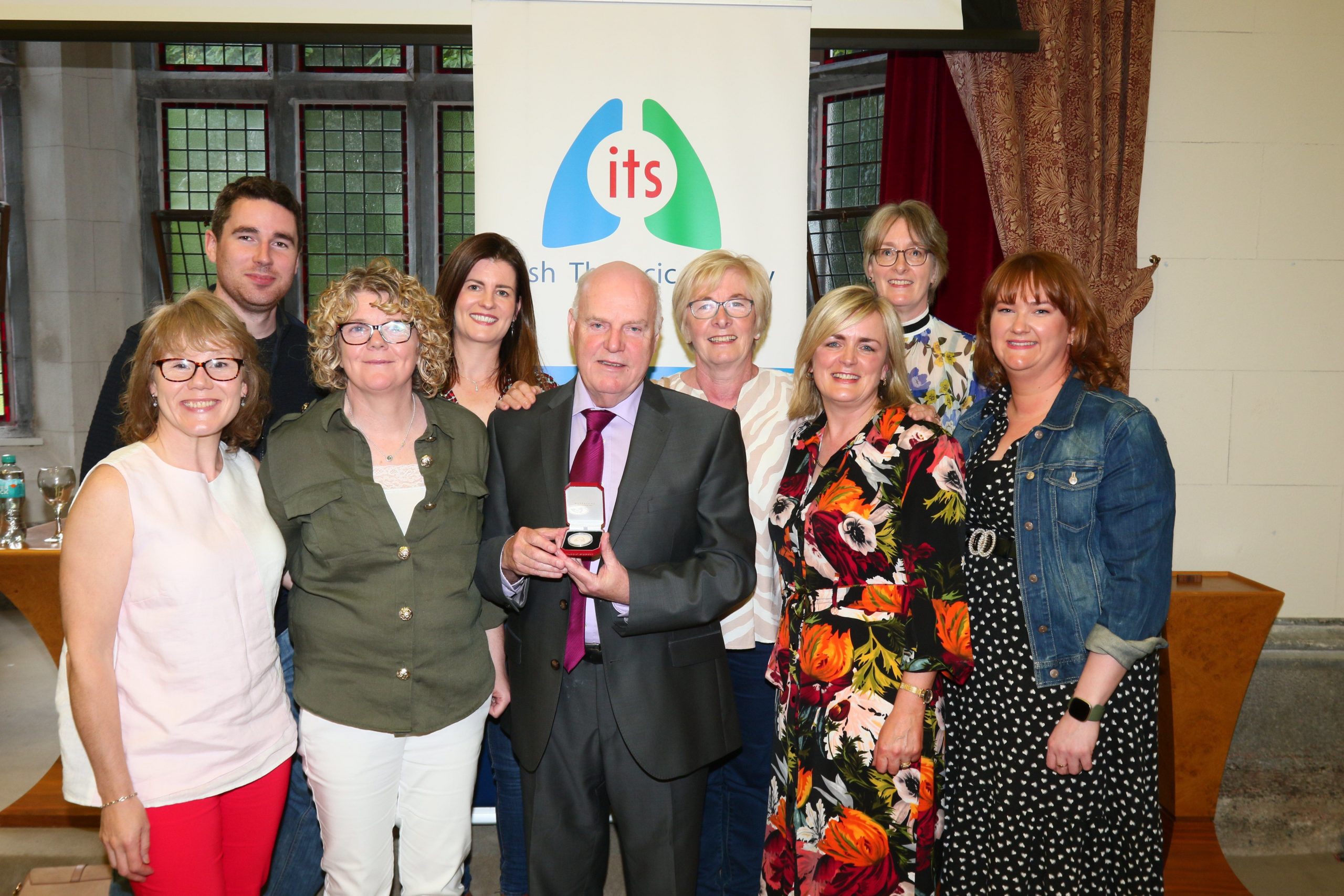 The most significant development for respiratory medicine in the region occurred in 1998 with the establishment of the Regional Respiratory Centre in Merlin Park's Unit 8.   JJ garnered the necessary resources and built a highly talented and committed multidisciplinary team to create an exceptional modern respiratory service.  Today this unit provides almost 1000 bronchoscopies annually and weekly assesses over 50 day cases  with 100 PFTs, 10 sleep studies as well as the severe asthma biologic and ILD service. It will soon provide the rapid access lung and cystic fibrosis regional service.
Throughout his career JJ has been a prominent and well-respected advocate for respiratory medicine. He was a member of Comhairle na nOspideal from 2001-2006 and a member of numerous subcommittees including the applications, maternity, neurosurgical, acute medical, and tuberculous committees.  JJ was a member of the National Advisory committee on Tuberculosis, has co-authored guidelines on tuberculosis and lung cancer, has provided long-term support to the Asthma Society of Ireland and more recently was Chair of COPD Support Ireland.
JJ was an early coordinator of the Western pre-membership training scheme now the Galway RCPI BST scheme.  He was a member of the first Specialty Training Committee in Respiratory Medicine and was National Specialty Director from 2008-2011. As Hospital Dean for the RCPI he set up and ran the membership in Unit 8 for over a decade.  He wrote the original curriculum and taught medical students in Galway throughout his career many of whom became respiratory colleagues.
Another major national contribution has been through his longstanding support and dedication to the Irish Thoracic Society.  He, with others, brought the ITS to the broad, multi-professional society we know today. President of the ITS from 2006-09 and the first  in the era of the new permanent executive, he led development of new governance structures including establishment of  stronger links with Specialist Registrars and increased integration with affiliate bodies for physiotherapy (CPRC), nursing (ANÁIL) and pulmonary physiologists (IARS) .