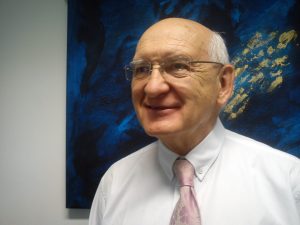 Professor Luke Clancy, Director General, Tobacco Free Research Institute Ireland (TFRI) and Adjunct Professor, TU Dublin, Kevin Street was the recipient of the ITS Award for Outstanding Contribution to Respiratory Medicine 2019. This recognised Professor Clancy's many achievements in respiratory medicine and particularly his work in research, which combined with tireless advocacy and civil leadership, has brought far reaching benefits to public health in Ireland and internationally.
A graduate of UCG, Professor Clancy worked in Edinburgh, with Sir John Crofton, and Nottingham before taking up posts in St James's Hospital and Peamount Hospital, and as Senior Lecturer in Respiratory Medicine in Trinity College Dublin. He played a leading role in medical and respiratory curriculum development both as Director of Post-Graduate Education for the TCD group of hospitals and as RCPI respiratory specialist nominee on the Specialty Advisory Committee of the Joint Committee of Higher Medical Training (UK and Ireland).
Throughout his clinical career he introduced significant innovations in medical practice including the first outpatient fibreoptic bronchoscopy service (1978), the first multidisciplinary lung cancer team in Lung Cancer (1988), and the first outreach service for COPD patients (2000). Like the original society, Professor Clancy developed a special interest in TB – leading strategy and research, both nationally and internationally, on TB control, epidemiology, and infectiousness.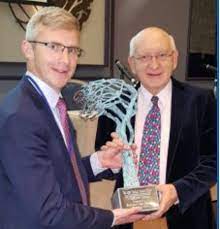 He served as President of the International Union Against Tuberculosis and Lung Disease. As national co-ordinator for the ISAAC study on the prevalence of asthma and allergic diseases, he provided estimates of asthma and data on 'smoking in teenagers', which has helped initiate Government action to reduce smoking in children. Professor Clancy is a passionate advocate for elimination of air pollution and smoking. His ground-breaking report on increased mortality due to air pollution in Dublin and subsequent campaign led to the Smoky Coal ban in 1990.
His study on effects of this intervention, reported in the Lancet and elsewhere, is considered seminal in this field. As Chairman of ASH Ireland, he led the campaign to make Ireland the first country in the world to introduce a ban on smoking in the workplace in 2004. As Director General of TFRI, his work on evaluating Smoke-free effects was used internationally to follow the Irish model as well as driving further policy change domestically in the form of Point of Sale bans and Plain Packaging. He has advised European governments, EU Parliament and NGOs and his major research on price and taxation of tobacco is contained in the outputs from the FP7 PPACTE project. His most recent ongoing research is on health effects of SHS on asthma and COPD patients (a Horizon 2020 project) and he has recently published the first RCT in the world on Allen Carr in Smoking Cessation (2018).