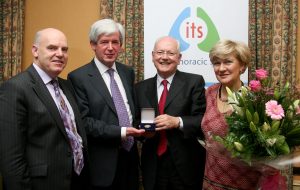 Professor Muiris X FitzGerald was the recipient of the inaugural Irish Thoracic Society Award for Outstanding Contribution to Respiratory Medicine in 2009. It proved an opportunity to celebrate and recognise Professor FitzGerald's distinguished career and his unique and invaluable contribution to the field of respiratory medicine.
A 1964 graduate of UCD, he trained in Dublin, the Seton Hall Medical School Jersey City NJ, the University of Birmingham UK and as an International Fogarty – NIH Fellow at Boston University Medical School Thoracic Services under the aegis of Ed Gaensler, Gordon Snider and Charles Carrington.
During his training in Boston he published numerous papers on Environmental and Occupational lung disease, Surgery for Bullous Lung Disease, the Evaluation of Electronic Spirometers, the effects of Marijuana on the Lung, the Natural History and Treated Course of UIP and DIP –the latter three papers were published in the New England Journal of Medicine. On returning to St Vincent's Hospital Dublin he established its first Pulmonary Function Laboratory and initiated the first Adult and Adolescent CF service in Ireland, as well as a suite of specialist outpatient clinics for patients with sarcoidosis, lung fibrosis/rare lung diseases and asthma.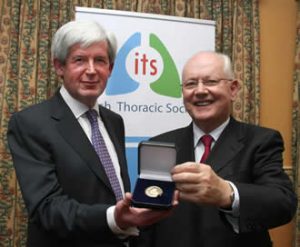 He served as Secretary of the ITTS and as first Secretary of the newly formed Irish Thoracic Society in 1980, later becoming its third President. He was Chairman/President of the Cystic Fibrosis Association of Ireland and of the Irish Asthma Society. Prof FitzGerald is Emeritus Professor of Medicine and Therapeutics at University College Dublin, where he was Professor of Medicine and Consultant Physician (St Vincent's University Hospital) from 1977 to 2006 and then Dean of the Faculty of Medicine from 2000 to 2006.
He is a former two-term Chairman of the Health Research Board (HRB) and served on the foundation Board of the Health Information and Quality Authority (HIQA), the Irish Society of Chartered Physiotherapists, An Bord Altranais and Comhairle na nOispideal for four terms. In professional education, he served as Chair of the Education Committee of the Irish Medical Council for four years and was Chair of the Medical Education, Training and Research Committee (METR) of the HSE from 2006 to 2009).