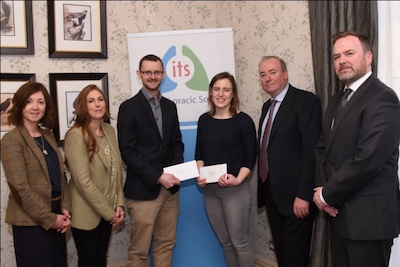 Dr. Robert Smyth and Dr. Laura Gleeson, both SpR's in Respiratory Medicine, have been awarded the A.Menarini Pharmaceuticals ATS travel bursaries to the values of €5,000 each.
These awards were open to SpR's on the Specialist Registrar Training Programmes in Respiratory Medicine or Paediatrics with an interest in Respiratory Medicine.
There were two awards, based on (1) An evaluation of abstracts submitted to the ATS and (2) Successful appointment to the role of Irish Thoracic Society Educational Officer. Dr. Gleeson was awarded the bursary for best abstract submitted to the ATS and Dr. Smyth was appointed to the role of ITS Educational Officer.