RespiCare has been a leading provider of respiratory support products and services in Ireland and Northern Ireland for more than 24 years. From Sleep Therapy through Ventilation, Airway Clearance, High Flow Therapy to Critical Care, with class leading customer service, RespiCare supports the patient's journey from acute care to home care. Click to find out more.
Ventilation Solutions:
RespiCare brings a range of Ventilation Solutions to Hospital and Homecare. From acute through sub-acute to chronic care, invasive to non-invasive, continuous to intermittent care, we have a Ventilation Solution for every patient.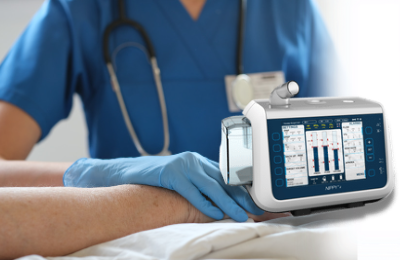 Airway Clearance:
Our Airway Clearance offerings include M I:E technology and suction devices. Today we provide clinician training for Hospital use and support service users in their homes.
High Flow Therapy:
Delivering a wide range of High Flow Therapy Options we meet the needs of patients from hospital to home with the same excellent service and support that all of our clients have enjoyed for more than 24 years.
Training:
Training is a critical element of the products and services we deliver. RespiCare is continuously training clinicians, carers and services users to ensure safe use and best practice outcomes from acute to chronic care settings. We facilitate face to face and online training events and we also welcome clinicians to visit RespiCare's Dublin facility.
Service:
Our strategically located fleet of Customer Service Representatives are supported by electronic activity and stock management technology to ensure an accurate, timely and safe service is delivered every time. Our Class Leading Service makes us On Time, Every Time, Everywhere.