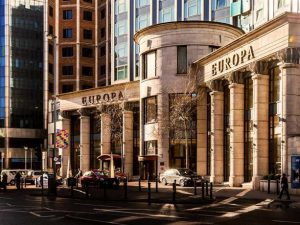 Message from the Local Organisers
It is our great pleasure to invite you to Belfast for the Irish Thoracic Society Annual Scientific Meeting 2018. As this year's Lonely Planet 'Best Place to Visit', there has never been a better time to join us on the banks of the River Lagan and in honour of this we have developed a programme to reflect the excellent work in respiratory medicine and healthcare taking place throughout the island. It will also deliver 'state of the art' education on a range of topics.
Oral and poster presentations throughout the meeting will provide a unique opportunity to review and discuss the high quality and innovation taking place in clinical and research centres throughout Ireland. We wish to thank all those who will present their work over the course of the meeting, as well as the abstract review committee and judges for their expertise and diligence in what is always a challenging task given the high volume and standard of work submitted.
Special features of this year's meeting will include: a lecture on the new BTS Mesothelioma Guidelines by Dr Ian Woolhouse from University Hospitals Birmingham; an update on the management of Idiopathic Pulmonary Fibrosis by Professor Martin Kolb, McMaster University; and an update on the treatment of Severe Asthma by Professor Liam Heaney, Queens University Belfast. We are also delighted to welcome Mr David Crosby, who will share his inspiring journey from double lung transplant to the international marathon circuit, as well as an update from the National Lung Transplant Programme from Professor Karen Redmond.
The Irish Thoracic Society Case Study Forum, which takes place on Thursday evening, 22nd November, has become a key event in the meeting's programme and this year will see a record number of cases being presented – with over 100 submissions in total.
We will also welcome many patient and professional organisations. Networking and sharing information on the wealth of activities taking place across the respiratory healthcare community continues to be an integral part of the meeting.
Finally, we would like to extend a particular welcome to the exhibitors and sponsors of this year's meeting. We are very grateful for their continued presence and support.
Dr Jacqueline Rendall                   Dr Rory Convery                     Dr John Lindsay
Local Organisers, ITS Annual Scientific Meeting 2018