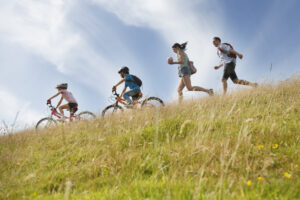 World Lung Day 2023
-Irish Thoracic Society Sets Out Five Ways to Love Your Lungs –

To mark World Lung Day on Monday September 25, the Irish Thoracic Society is urging members of the public to "Show Your Lungs Some Love" and commit to undertaking five actions to safeguard their lung health.
The actions focus on quitting – or never – smoking, eating a healthy balanced diet, undertaking regular exercise, breathing clean air, and getting vaccinated, and reflect the recommendations set out in the Healthy Lungs for Life campaign being undertaken by the European Lung Foundation and the European Respiratory Society.
The call to act comes as figures show 100 people dying each week as a result of smoking1, and over 1,400 premature deaths in Ireland each year due to air pollution2. Lung disease incorporates a wide range of respiratory illnesses with the most prominent being asthma, chronic obstructive pulmonary disease (COPD), and lung cancer, but also includes sleep apnoea, cystic fibrosis, lung fibrosis, tuberculosis and Alpha-1 antitrypsin deficiency.
Ireland has one of the highest rates of asthma in the world with approximately 450,000 people believed to have doctor-diagnosed asthma of whom more than half are thought to have uncontrolled asthma3. It is estimated that there are 380,000 people in Ireland living with COPD, yet less than a third of these have been formally diagnosed with at least 1,500 people dying each year from the disease3. According to the National Cancer Registry, lung cancer is the leading cause of cancer death in both sexes, with an average of 1,916 deaths per year or 19 per cent of cancer deaths in women and 21 per cent of cancer deaths in men between 2016 and 2018 4.
Vaping Concern
For Dr Marcus Butler, consultant respiratory physician and President, Irish Thoracic Society, one of the key lung health actions is not to smoke or vape, with the growth in the use of vaping by young people of significant concern:
"We know from research undertaken by the European School Survey Project on Alcohol and Drugs5 that there has been a more than 50% rise in e-cigarette use among 15-16-year-olds in Ireland, from 23% who had ever vaped in 2015 to 39% in 2019, and from 10% who were current users in 2015 to 18% in 2019. In fact, more than two thirds of users (68%) had never smoked a conventional cigarette before trying e-cigarettes/vapes. Moreover, nicotine, which is highly addictive, is found in most e-cigarettes and often in large doses. It is concerning that for those who have never smoked, such as adolescents, taking up e-cigarettes makes them three to five times more likely to start smoking compared with those who have never had an e-cigarette6, risking the creation of a new generation of smokers.
"We are increasingly seeing the negative effects of vaping – for anyone determined to give up smoking the best outcomes are from evidence-based approaches that have been proven to work. Regrettably, most smokers buying e-cigarettes to quit smoking end up using both e-cigarettes and tobacco, making them even worse off."
Five Ways to Love Your Lungs
Quit while you're ahead. Smoking damages the airways to the lungs causing chronic cough and breathlessness, reducing quality of life and increasing the risk of lung diseases. The good news is that by quitting before serious damage is done, we can prevent diseases such as chronic obstructive pulmonary disease or asthma from getting worse. No matter what age we are, we can still extend our life by giving up smoking, however, the younger we are when we give up, the more years we can add on to our lives. The first steps are to set a 'quit date', and seek help from a doctor, pharmacist or a HSE stop-smoking advisor. Use simple tricks to reduce the urge to smoke such as keeping the mind busy or moving away to another place where people aren't smoking. Check out www.quit.ie, Freetext QUIT to 50100 or Freephone 1800 201 203 for more information on available supports.
Variety is the spice of life.

There is increasing evidence that diet plays a role in the development and progress of lung diseases, and being either underweight or obese can have harmful consequences for lung health. In general, a diet of fruit, vegetables, fish, low salt and reduced trans-fats and omega-6 fatty acids, will help maintain good lung health. Foods that are rich in antioxidants are particularly beneficial, such as blueberries, red cabbage, spinach and beetroot, as are foods rich in magnesium such as nuts, cereals, seeds, carrots and seafood. Intake of essential omega 3 fatty acid, found in oily fish, shellfish, soy and leafy vegetables, is also recommended.

Fit as a fiddle.

Regular physical activity is important for lung health and there is a level of exercise that is suitable for everyone. In order to stay healthy, you should do 30 minutes of moderate exercise five days a week

7

. It could be a planned sport such as running, swimming, tennis or bowls, an exercise training programme, or a hobby such as cycling or walking. It could also include physical activities which are part of your daily life, such as gardening, cleaning or walking to the shops. People with long-term lung conditions can also help improve their symptoms through regular exercise. It is best to ask the guidance of a doctor or physiotherapist to ensure that your exercise plan is suitable and safe. The more you do, the more you will be able to do! Remember any type of physical activity counts as exercise and joining up with a friend or colleague will make it more fun and help keep you motivated.

A breath of fresh air.

It is important that we all take steps to reduce both indoor and outdoor air pollution as pollutants can have a detrimental effect on our lung health. Air pollution also contributes to climate change and climate change increases the risks of air pollution so reducing our emissions is critical not just for our health but for the environment too. According to the European Lung Foundation, over 900 different compounds have been found in indoor air and some pollutants can be two-to-five times more concentrated inside than outside

8

. Indoor air pollution can arise from smoking or fuel used in heating and cooking, as well as from dampness and mould, and even the cleaning materials we use. Plus, because we spend most of our time indoors, the health impact is even greater. Do ensure that your house is well ventilated, particularly after cooking, taking a shower or using cleaning agents. Maintain gas appliances, make sure chimneys are cleaned, instal carbon monoxide alarms, and test for radon. Check local air pollution levels at

www.airquality.ie
A little scratch!

Getting vaccinated can protect you from a range of different diseases and help keep your lungs healthy. The 'flu, pneumonia, COVID-19, and whooping cough are examples of lung conditions that can be prevented by vaccination. Each year the World Health Organisation advises on three strains of flu that vaccines should target. There are two types of vaccine available to protect against pneumonia and these are particularly advised for those over 65 years or who have a pre-existing lung disease. Booster vaccines for COVID-19 are also particularly encouraged for these groups. The whooping cough vaccine is offered to children in their first year, with a booster between five and ten years of age. With winter approaching, make sure to get vaccinated to offer you the best protection against viruses that may be circulating.
ENDS
Issued on behalf of the Irish Thoracic Society by:
Don Delaney, director, d2 communications, tel.: 01 910 8987 / 087 793 3249
References
1 HSE: Smoking facts and figures. See https://www2.hse.ie/living-well/quit-smoking/reasons-to-quit/facts-and-figures/
2 Government of Ireland: Clean Air Strategy for Ireland. See https://www.gov.ie/pdf/?file=https://assets.gov.ie/255392/efe212df-d9a7-4831-a887-bea2703e2c64.pdf#page=null
3 Department of Health: National Healthcare Quality Reporting System, 2021/2022. See https://www.gov.ie/pdf/?file=https://assets.gov.ie/236763/88ff5f95-b41e-467f-aac9-e6a7a07490fe.pdf#page=null
4 National Cancer Registry Ireland: Cancer in Ireland 1994-2020. See https://www.ncri.ie/sites/ncri/files/pubs/NCRI_AnnualStatisticalReport_2022.pdf
5 TobaccoFree Research Institute Ireland: European Schools Project on Alcohol and Other Drugs in Ireland. See www.drugsandalcohol.ie/33347/1/ESPAD%202019%20Ireland.pdf and https://www.drugsandalcohol.ie/26116/1/Irish-ESPAD-2015-16.09.16.pdf
6 Health Research Board: New HRB evidence shows e-cigarettes are associated with adolescents starting to smoke tobacco cigarettes. See https://www.hrb.ie/news/press-releases/single-press-release/article/new-health-research-board-evidence-shows-e-cigarettes-are-associated-with-adolescents-starting-to-sm/
7 European Lung Foundation: Your lungs and exercise. See https://europeanlung.org/en/information-hub/factsheets/your-lungs-and-exercise/
8 European Lung Foundation: Healthy lungs for life. See https://europeanlung.org/en/information-hub/keeping-lungs-healthy/indoor-air-pollution/
Photo credit Peter Cade.Stone via Getty Images