Welcome to the Irish Thoracic Society Annual Scientific Meeting 2021. Although we are unable to welcome you to the banks of the Lee in person, we are delighted to host you virtually with a programme that showcases the great work taking place in respiratory medicine and healthcare throughout the island.
Thanks to all our presenters, chairs, guest speakers and charity partners and sponsors who have made this meeting possible.  The meeting will comprise of themed poster discussions, oral presentations and five 'state of the art' guest lectures.  The expansive parallel poster discussion that forms part of in-person meetings is not possible in this format but we encourage delegates to review the highly interesting and informative E-Posters available through this platform.  We are delighted to welcome leading national and international experts: Professor Cormac McCarthy, St Vincent's University Hospital who will speak on Diffuse Cystic Lung Diseases; Professor John Cryan, University College Cork who will speak on the Gut Microbiome; Professor Thierry Troosters, KU Leuven who will provide an update on Pulmonary Rehabilitation, Professor Harry de Koning who will speak on the implementation of lung cancer screening and Professor Dirk-Jan Slebos  who will give an overview of bronchoscopic Interventions for COPD and chronic bronchitis.  As in previous years there will be Poster and Oral Awards as well as the Jean Norton Award for Best Research Paper in Chronic Restrictive Pulmonary Disease, all of which will also be announced at the close of the meeting.
Finally, sincere thanks to our sponsors: A Menarini; Astra Zeneca; Boehringer Ingelheim; GSK; Janssen; Novartis;  Roche and Vertex.  Also Air Liquide; BOC Healthcare; Boston Scientific; Direct Medical; Home Healthcare; Insmed; Medicare; MSD Ireland; ResMed PEI; Sword Medical and Viatris. Their support has made this meeting possible.  We strongly encourage you to view the short video clips that will take place at the start of each break and to take some time to visit their 'virtual stands'.  We also encourage you to visit the pages of the respiratory patient charities: Alpha-1 Foundation; Asthma Society; COPD Support Ireland; Cystic Fibrosis Ireland and the Irish Lung Fibrosis Association where you will find information and updates on the valuable work that is taking place in respiratory patient care and support.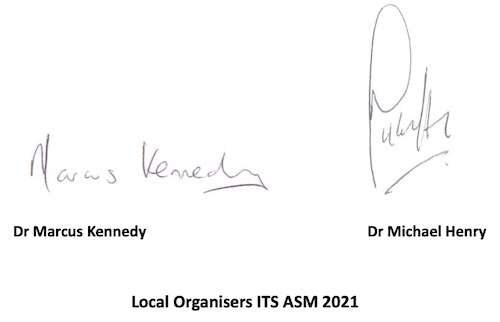 This information is for Healthcare Professionals only